Easy Baked Chicken Breasts
Chicken breasts are mainstays of many healthy diets
Chicken breasts are low fat, high protein, and are mainstays of many bodybuilders and other healthy eaters diets. However chicken breasts can be boring if they are bland, dry if overcooked, and it is pretty easy to get tired of them.
Humans have been eating chicken (the most common form of poultry, which basically means bird), and getting bored with it forever: chicken was one of the earliest domesticated animals for food.
but they can be boring . . .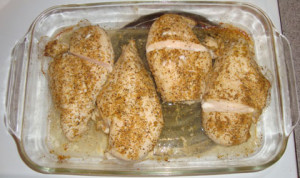 Here is a very simple recipe for spiced chicken breasts roasted in the oven. Not bland, not dry, and you can vary the spices as well as eat the chicken as is or use the chicken in different kinds of dishes like Mexican and Italian.
Try it out, and it just may make it to your list of favorite recipes.
This simple recipe rocks!
We bake at 400 degrees, which helps the chicken cook quickly and not dry out.
Also, to keep the chicken from being boring, we spice it. In the pictures, I'm simply using Montreal Chicken Seasoning, available in most any supermarket in the spices isle, or you can even make your own.
There are plenty of other spice choices you can use, and I vary my spices depending on what I'm doing with the chicken breasts. If I'm eating them as is, I usually use the Montreal Chicken Seasoning or perhaps just salt and pepper instead.
If I'm using the chicken in a Mexican dish, maybe nachos or tacos, I may use fresh cilantro and cumin. If it's for an Italian dish, maybe sometime as simple as accompanying spaghetti, basil and garlic is great. Feel free to experiment, and I most commonly use Montreal Chicken Seasoning or salt and pepper.
Ingredients:  
one pound boneless chicken breasts
olive oil (any other oil you may have handy also works fine, but I prefer olive oil personally)
Montreal Chicken Seasoning (or whatever spices/herbs you prefer).
Turn the oven on to "Bake" at 400 degrees.
While it is heating, trim the breasts of any visible fat (I usually use scissors),  place into a baking dish, coat both sides of the chicken with one tablespoon of oil, and coast both sides liberally with the chicken seasoning.
Once the oven is preheated to 400 degrees, place the chicken in the oven.
Bake it for 25 to 35 minutes.
At 25 minutes, check to see if it is done. Cut a chicken breast at the thickest part to make sure it is not pink (meaning not fully cooked). If so give it another 5 minutes in the oven and check again. If still not done, another 5 minutes (for 35 minutes total) will finish the job.
Don't forget to turn off the stove (it's easy to forget).
Let the chicken cool for 10 minutes if you can, and you are done! Eat as is, or use in a recipe like The Muscle Cook's Almond Chicken Salad.
You can keep the chicken in the refrigerator for a couple days easily (tightly wrapped so it doesn't dry out) or you can freeze it for longer storage. And of course you can cook more than 1 pound of chicken at a time also.
For some simple ideas yet imaginative ideas showing how flexible chicken breasts are, check out 20 quick fixes for boneless chicken breasts. Great pictures too.